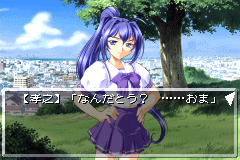 Page not done but you can see my messing-arounds with the games here and if you want to remove the lock-n-key button input protection compile the crack.c tool
Actually I might make this page about Japanese GBA homebrew in general. Let's wait and see!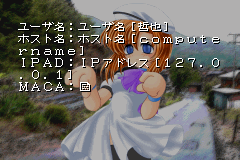 inside-cap section
DID YOU KNOW? The package artist for these games is called Michiru Kataoka, and she has her own webpage.
Below is a table of all the extant Inside-cap novel ports I am aware of, and their preservation status. If possible, the Japanese titles are included for ease of searching.
"Original?" indicates if the original game disc(s) the converter expects has been dumped.
"Converter?" indicates if the converter software disc has been dumped. An ISO is good, but having all the goodies scanned is even better.
"ROM?" indicates if a ROM created with the converter is available.
There also might be more games. Need to wade through GoodGBA more.
Original game name
New game name
Release date
Original?
Converter?
ROM?
Tsukihime
Rinne Tsukihime
2001-12-21
???
Tsuki-Bako disc not supported
No
Yes
Rinne Tsukihime - Shingetsusai
???
???
Tsukihime & PLUS-Disc
Tsuki-Bako discs not supported
No
No
Kagetsu Tohya
Rinne Tohya
2003-12-25
???
No
Yes
Tsuki-Bako
Rinne Tsukihime BOX EDITION
2003-12-30
???
Only uses Tsukihime and Kagetsu Tohya discs
No
No
Hajimete no Orusuban
Hajimete no Advance
2002-04-28
???
No
Yes
Hajimete no Advance Voice-Spec
2003-12-28
No
Yes
Suika
Kodama Suika
2002-08-11
???
No
Yes
BITTERSWEET FOOLS
LITTLE BITTERSWEET FOOLS
2002-12-30
???
No
Yes
Kimi ga Nozomu Eien
Kimi ga Nozomu Advance
2004-08-06
???
No
Yes
Cross†Channel
Cross†Change
2004-08-06
???
No
Yes
Air
Air Pocket Advance
2005-01-05
???
No
Yes
Higurashi no Naku Koro ni
Tenohira de Higurashi ga Naku
2005-02-07
Yes
Himatsubushi-hen 20040813 ver.
Installed files only
Yes
Koibito Double One
???
???
???
???
Yes
To Heart 2
???
???
???
???
Yes
The following are just fan-games, and don't need an original game disc.
| Parodied work | Game name | Release date | Disc? | ROM? |
| --- | --- | --- | --- | --- |
| Rizelmine | Rizel no Mine Seeker | 2002 | No | Yes |
beware!
These ports may look like Inside-cap products, but they are definitely NOT.
The font they used is actually a free one called "k12x10", and its usage in a game does NOT implicate Inside-cap in its development. Instead, listen for the characteristic sound samples, look for their logos, and check for the standard "start-button" menu.
links
These will be better sorted when I get an idea of the whole situation, or something